CBD for Seniors: Does Cannabidiol Benefit Seniors?
CBD for Seniors: Top 7 Natural Cannabidiol Medicinal Health Benefits for the Elderly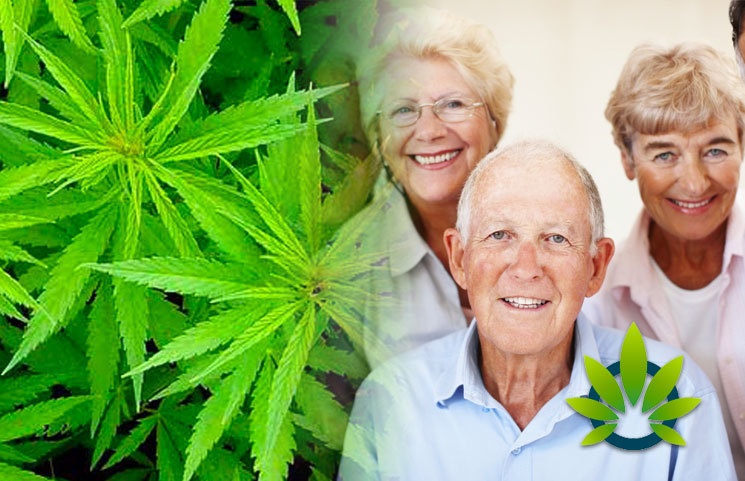 In 2010 a massive shift occurred in the healthcare industry. Several people stopped relying on doctors and nurses to tell them how to improve their health and started taking matters into their own hands. Several individuals started looking to other means to help with their health ailments. Fed up with the prices of prescriptions and healthcare people started getting back to nature.
CBD is one of those natural remedies that people have turned to for relief. In the last several years, CBD has grown in popularity and the tests conducted for this natural remedy has proven to provide relief for several medical conditions including, multiple sclerosis (MS), arthritis, epilepsy, anxiety, and several other stress-related issues. But benefits of CBD don't stop there.
What is CBD?
You see, CBD is not restricted to age limits. Anyone, at any age can benefit from using CBD without the nasty side effects of Tetrahydrocannabinol or THC. To better understand CBD, you need to understand that CBD or cannabinoid is only one in sixty cannabinoids that is found within the hemp plant which is a distant cousin of the cannabis plant marijuana. CBD comes directly from the oil within the hemp plant that does not produce the 'high' found in cannabis.
However, it does have calming effects and other natural elements to help with a wide range of ailments because CBD has the ability to interact with the receptors in the body's Endo cannabinoid System (ECS). This is the main reason why the psychoactive cannabinoids such as THC causes one to get "high". But CBD does not have this quality in it which is why it makes for a perfect natural solution especially for those 65 and older.
Benefits of CBD for the Elderly
There are 46 million people in America over the age of 65 and that number continues to grow each day. When we get older, we come face to face with different and more difficult health conditions than what we did in our younger years.
According to the Neurodiscovery Center at Harvard 5 million out of the 46 million over 65 suffer from Alzheimer's. One million are dealing with Parkinson's and 300,000 are suffering from MS. But what is astounding is that 46% of those over the age of 65 are dealing with some form of Arthritis. 46% is nearly half of the senior citizen population! And these issues deal with the physical conditions without touching on the mental health of these individuals.
According to the Mental Health America, 27% of those 65 or older are battling with some form of anxiety that disables them from living a healthy, happy life. But the thing is, this is just the tip of the iceberg. These numbers are projected to sky rocket in the next 10 to 20 years due to the population in America and those reaching this age threshold.
Why Should You Consider Using CBD?
There are seven main reasons why the elderly should consider a regiment with CBD. Each of these reasons targets a specific medical condition. And while tests are still being pursued to understand all the benefits of CBD, the list below explains how this miraculous plant can help people no matter their age.
Pain Management
As stated before, nearly half of the citizens over 65 are dealing with arthritis. Within that group, 75% to 85% deal with some sort of chronic pain. After all, in our youth we don't think about the repercussions of the damage we do to our bodies. In our youth we think we are invisible. But as time wears us down, joint, muscle, and bone pain begin to emerge.
Luckily though, studies conducted with CBD have shown patients with chronic pain can find relief when using products with CBD. By activating the various receptors in the ECS system, the tests conducted have shown a significant reduction of pain. Further studies conclude that CBD does in fact reduce inflammation and varying degrees of pain brought on by arthritis, MS, and joint pain.
Improve Bone Density
Osteoporosis is a process where our bones lose vital minerals causing them to turn brittle and susceptible to breaking. Osteoporosis is the reason why falls are the main cause of death for men over the age of 60. Statistics show that 33% of women over the age of 50 suffer from fractures caused by Osteoporosis.
Studies have shown that using CBD or other cannabinoids actually strengthen bones as well as speed up the healing process when a fracture or break occurs. Additional clinical trials need to be conducted to solidify the application for the majority of cases, but the results so far, look promising.
Sleep Conditions
Insomnia is a condition that affects people of all ages. However, it is very common in people over 65. There are a number of reasons why one cannot get the sleep they need. One of the main issues is stress. But for senior citizens, sleep deprivation comes from chemical imbalances that comes from getting older.
Because our bodies need sleep to reset itself from the prior day, conditions like restlessness, anxiety, and even pain make it even more difficult to get the sleep we need. So, many people with sleeping problems turn to medication, but turning to drugs to get a little shut eye can cause further problems down the road.
But with the calming effect that CBD induces, a person can get the sleep they need without the harmful side effects of prescription medications.
Addiction
When it comes to alleviating a medical condition, people tend to form habits. Those habits are often not healthy ones. For the example above, when a person finds a medication that helps them sleep, their body will eventually get used to the prescription. In turn, they will then need a higher dose to get the same effect. This small change turns into a major problem and becomes and addiction.
The use of CBD is non-habit forming with the added benefit to help those that have become dependent on certain medications to get off them. In 2018, a study showed that CBD helped those who had developed a dependency on medication to not only combat the addiction but also refrain from relapsing.
Heart Health
The number one cause of death for senior citizens happens to be heart disease. It doesn't help of course that more than half of all Americans have a varying degree of high blood pressure. According to CBD studies, high blood pressure can be treated naturally using this substance.
In 2017 a study was conducted of 10 men. Each person was given a daily dose of 600 mg of CBD. During that test, it was shown that those individuals were able to reduce their high blood pressure. During this study, those men were introduced to several stress tests to determine the effects of CBD. It was no surprise that those using CBD on a daily basis were able to outperform the stress tests and exhibited a lower blood pressure response than normal.
Along with lowering the test subject's blood pressure, the study found that CBD antioxidant properties also reduced cardiac inflammation. In short, using CBD helps deter cell death which is caused by oxidative stress. This in turn can also be used to help patients with diabetes and fibrosis by improving the heart cells.
Neurodegenerative Diseases
It is disheartening to discover that a family member is suffering from Alzheimer's, MS, Parkinson's, Huntington's, or even ALS. Watching them deteriorate with no hope is heart breaking. Over the last several years, scientists and doctors have been conducting tests to find ways to help patients with these serious conditions.
In 2007, one study showed that using CBD reduced the neuro-inflammation in Alzheimer's. In 2012, doctors found CBD actually slowed down the degenerative process along with alleviated the pain and spams of MS. 2014, CBD showed promise in preventing the deficits that is associated with Alzheimer's.
While tests are still being conducted on CBD and its medicinal properties, the results are astounding. The evidence showing CBD helping people that suffer from these neurodegenerative diseases is on the rise. It is very possible in the near future that CBD may be the primary treatment for those suffering from these diseases.
Mood Swings
As the body grows older, the chemical imbalances of the body and brain begin to break down. Many senior citizens experience a wide range of emotions that they cannot control or comprehend. Because CBD interacts with the receptors of the brain, it can alleviate the stress one feels and will help to calm the mind as well as improve cognitive systems and functions.
Final Thoughts on CBD for Seniors
CBD is still being studied for its medicinal properties. By the overall studies so far, CBD has proven to be a substance that can help several people no matter their age. It is always important to speak with a health care provider before starting any new regiments. While CBD is a natural solution to several problems, it still has not been tested on all situations or prescriptions.
TimesofCBD is the most active daily CBD news publication featuring the latest cannabis industry stories and marijuana market trends. As the leader in CBD-centric content curation, we invite all readers to come for the headlines and stay for the insights. Quality is the top priority when presenting user guides, analyzing product reviews and reporting fact-checked news announcements. All information is for educational and informational purposes only. Disclaimer.
Got news? Email contact@timesofcbd.com