CBD in New York: NY State Laws and Where to Buy Legally
CBD Oil Legality in New York: Cannabidiol State Law Regulations in NY, USA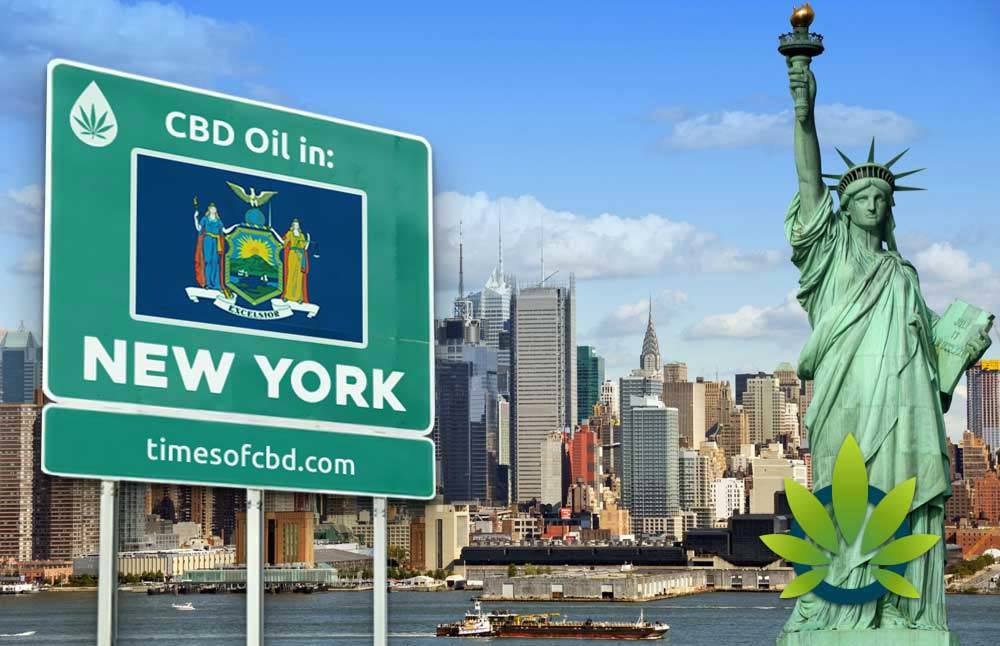 New York has one of the most developed and robust CBD industries in the entire country. While their industrial hemp pilot program is the very same type of institutional embrace taken by many states in the U.S., the state of New York has a wide range of popular applications for CBD which continues to inspire more major players to enter the game. As a result of this clearly profitable industry, New York's stance on hemp-derived product is very CBD friendly.
Still, the national stage has made it difficult for consumers to begin to unravel an often-complex legal maze surrounding CBD and hemp-based products. Though the federal Farm Bill seems to have completely legalized the industrial hemp industry, many states still place substantive regulations on CBD and hemp-derived products. This can make it more difficult for mobile CBD users to be sure of the precise legality of CBD in their current location.
Luckily for constant citizens of New York, though, CBD enjoys a popular place in the hearts of many New Yorkers, and businesses are increasingly beginning to see the vast benefits to introducing CBD into their products and framework. This guide should serve as an introductory resource for CBD users questioning the laws and regulations in the state of New York regarding the substance. Ultimately, though, it is up to the reader to ensure that they remain within the legal boundaries of their jurisdiction at all times.
CBD Laws in New York
Two laws make up the legal framework for New York when it comes to cannabis and hemp products. First, the medical cannabis industry became legal via A6357 back in 2014. This set of laws made it possible for sufferers of certain debilitating conditions to gain access to high-quality marijuana products, including high-THC CBD oils and edibles. There are a few caveats to this law, though, that all consumers should understand.
The medical cannabis law did not make it possible for all medical patients to gain access to medicinal marijuana in the state. Only specific conditions of varying severities qualify for the program; a comprehensive list can be found on New York's legislature's website. Additionally, only a licensed physician can issue a medical marijuana card and the card can only be used to purchase medical cannabis from a licensed and vetted dispensary, of which there are quite a few in the state of New York.
But as CBD and hemp products grabbed the national interest a few years back, New York legislators took steps to clarify the legality of the industry in their own state. This became law through revisions to New York Agriculture and Markets Law, in sections 505 to 508. These revisions created an industrial hemp pilot program, making it effectively legal for companies to manufacture products using industrial hemp so long as the products remain below a certain THC content.
Age Requirements for CBD in New York
New York age requirements depend on a couple of things when it comes to CBD. First, it is important to note that medical marijuana is available to all citizens with qualifying conditions, and can be theoretically issued to minors. But in the vast majority of cases, physicians try to avoid issuing medical marijuana to minors, and they are only legally permitted to do so with the permission of the minor's parent or legal guardian.
For other types of CBD, there is also a bit of variation. CBD oils and edibles in the traditional sense are often only sold by convenience stores and gas stations to consumers over the age of eighteen. But in New York, CBD has become a fashionable additive to foods, some of which are sold in regular shops and restaurants.
Types of CBD in New York
New York has a robust CBD industry. Smokables and edibles in the traditional meaning of the words are often available. But the state also has an interesting market for CBD-infused foods, which are sold in some specialty shops and niche restaurants in certain parts of the state.
Additionally, there are several medical dispensaries which offer CBD with high THC contents what exceed the allotment provided by the state's industrial hemp pilot program stipulations.
Buying CBD Online in New York
Buying CBD online is absolutely legal in the state of New York. The only stipulation to this unmitigated allowance is that consumers should not order any CBD that exceeds the maximum THC content allowed by New York's industrial hemp pilot program; these requirements can be found on the New York Agricultural department's website.
Future of CBD in New York
As time continues to march on and public sentiment continues to turn in favor of the hemp industry, New York is likely to only become more legally accepting of a variety of hemp-derived and cannabis industries, all of which have found a palpable home in the state of the "Big Apple."
TimesofCBD is the most active daily CBD news publication featuring the latest cannabis industry stories and marijuana market trends. As the leader in CBD-centric content curation, we invite all readers to come for the headlines and stay for the insights. Quality is the top priority when presenting user guides, analyzing product reviews and reporting fact-checked news announcements. All information is for educational and informational purposes only. Disclaimer.
Got news? Email contact@timesofcbd.com